Australia's first digital script list has been vital in helping the rural New South Wales community of Forbes continue to provide potentially life-saving medication to dozens of patients cut off by flood waters throughout November and December
.
Regional patients and patients with high medication needs have led take-up of the digital script list, called My Script List, which has today hit the milestone of one million scripts since its launch in April. In the eight months since launch, it has demonstrated its value in helping to avoid medication disruptions that would otherwise occur as a result of events such as floods, isolation due to COVID or travelling.
One of two pharmacies servicing the community and surrounding areas, Life Pharmacy is consistently one of the highest users of My Script List, nationally and in New South Wales. According to Jack Buckley, lead pharmacist, owner and manager, having a high number of patients registered with the digital script list was invaluable in allowing Life Pharmacy to get medications to patients who were isolated by floods.
"Many of our patients were cut off from town and isolated by the severe flooding in November. Without My Script List and electronic scripts, they would not have been able to access their medications. Instead, patients could use telehealth consults to obtain an electronic script, which we could immediately view and dispense via My Script List. We delivered patient medications to SES workers, who ferried medications to patients across flood waters."

"Being in a rural area, My Script List has really helped our patients and our pharmacy in finding new ways to prevent disruptions to medication supply. With My Script List, the patient and pharmacy both have immediate access to the electronic script, so there is no faxing, emailing or trying to find where it has gone.
This makes it really easy for patients and for us, whether dealing with periods such as Covid, the current floods, or when they are on holiday."
According to Paul Naismith, pharmacist and CEO of Fred IT, the digital list was vital in supporting the community to be able to avert otherwise potentially life-threatening disruptions in medication.
"My Script List is the final and vital link that connects patients and health professionals electronically and in real-time nationally. Prior to the introduction of the first active script list in April, such a rapid community response involving GPs, pharmacies and SES workers to get medication to patients isolated by flood
waters would not have been possible. The ability to view a real-time digital list of a patient's current scripts and repeats means that pharmacists and health professionals and community organisations are able to respond quickly and inventively in supporting communities with life-saving care."
In addition to providing greater flexibility and speed of response, Life Pharmacy has also seen significant improvements in dispensing efficiency.
According to Jack Buckley,
"The big impact for our pharmacy is that it streamlines dispensary workflow and increases workflow efficiency by as much as 30%. Once we saw its efficiency, our motto was to try to sign up every patient who came in with an electronic script."
This streamlining occurs as a result of the fact that My Script List consolidates all of a patient's active prescriptions in one list, regardless of whether the patient uses tokens, paper prescriptions, or a combination. Pharmacies can see and dispense directly from the digital list.
Regionally based pharmacies represent 65% of the top 20 users of My Script List and higher usage in both Victoria and New South Wales. Across Australia, My Script List users have an average of 9.2 scripts each, suggesting that My Script List is helpful for patients with more complex health issues requiring multiple
medications.
My Script List is a Department of Health conformant Active Script List (ASL) created by Australia's two prescription exchange services, eRx Script Exchange and MediSecure. It is available to all pharmacies across Australia with integrated dispensing software.
Pharmacists can assist patients to register for the free My Script List service, and request access to view and dispense from a patient's list.
For further information:
Information and resources on electronic prescriptions for patients and healthcare providers are available on the Australian Digital Health Agency website.
Fred IT Group will launch prescription ordering via popular messaging service WhatsApp at this year's APP Conference to be held between 20 and 23 May.
WhatsApp is one of Australia's most popular messenger apps, and home to the Australian Government's official Covid-19 channel. The launch of prescription ordering via WhatsApp means that it will be even easier for patients to view and manage their electronic prescriptions. Patients will also now have the flexibility to order their electronic prescriptions via WhatsApp, SMS or email.
Patients will also be able to use WhatsApp to quickly and easily access their My Script List to message their pharmacy to arrange for a prescription to be dispensed. My Script List is Australia's first active script list, launched in Tasmania in April 2021, and now available to all states and territories. It provides GPs, patients and pharmacies with visibility of all of a patient's current prescriptions and repeats in one digital list for the first time. The new script list complements the existing methods of the paper script and digital token – the digitised script sent by the doctor to a patient's email or phone – which was introduced in May 2020.
According to pharmacist and CEO of Fred IT Group, Paul Naismith,
"The addition of WhatsApp ordering makes it significantly easier for patients to manage their medications, and means that a significant number of patients now have the flexibility to choose between using SMS, email or WhatsApp to order their prescriptions. We know that more and more, consumers are favouring one app that they can use for many interactions. As the most widely used chat app in Australia, this means that the WhatsApp options for script ordering will be available to the most people possible"
In 2020, Fred won an Australian Digital Health Agency (ADHA) Innovation Challenge for its work on developing WhatsApp as a way to enable Australians to easily access their prescriptions electronically.
WhatsApp prescription ordering uses a WhatsApp chatbot and includes end-to-end encryption. Pharmacies using Fred dispensing software have access to WhatsApp prescription ordering. This is available via MedView Patient Connect, which is part of MedView Flow.
Prescription ordering with WhatsApp is being launched at the APP Conference on the Gold Coast (May 20-23). Please visit the MedView & eRx Script Exchange stands (127 and 128) to see it for yourself.

Fred IT Group launched a new digital script list, called My Script List, last week to provide pharmacies with a complete list of all of a patient's current prescriptions and repeats for the first time.
My Script List was launched in Tasmania on Thursday 22 April. It will be rolled out to the remaining states and territories by the end of May. The new digital list will make it significantly easier for pharmacists to help patients identify the correct electronic prescription, removing concerns about patients losing prescriptions, or having to locate the right prescription or digital token.
According to Joseph O'Malley, Pharmacist and owner of Westside Pharmacy in Ulverstone, Tasmania, and Director of Pharmaceutical Defence Limited:
"My Script List has provided us with better visibility of our patients' current prescriptions. This helps us to reduce the pressure that patients experience, as they no longer need to worry about remembering their scripts or sorting through tokens on their phone. Instead, they simply come in and talk to us and let us manage their prescriptions. My Script List has also removed the need to keep scripts on file, so is much easier to manage than printing and filling paper prescriptions."
Electronic prescriptions were launched in Australia in May 2020 with a digital token method (the electronic prescription sent by the doctor to a patient's email or phone) alongside the existing paper prescription. In the six months since launch:
More than 6.5 million electronic prescriptions have been created and 4.2 million dispensed
17,227 doctors have created an electronic prescription
5,469 Pharmacies have dispensed an electronic prescription
My Script List is a Department of Health conformant Active Script List (ASL). It works alongside the token method and the original paper prescription. Whilst the token method generates a separate token for each prescription and repeat, My Script List combines the patient's electronic prescriptions in one digital list.
According to pharmacist and CEO of the Fred IT Group, Paul Naismith:
"My Script List will substantially reduce the administrative burden associated with managing and dispensing prescriptions. This is extremely important for pharmacies that are supporting patients with multiple prescriptions and chronic health conditions. It means that pharmacists can therefore spend time where they need to – supporting the health care needs of their patients."
My Script List was created in partnership between Australia's two prescription exchange services - eRx Script Exchange and MediSecure - and will be available to all pharmacies across Australia as other dispensing vendors integrate to the MySL. Patients can contact their pharmacist or GP to activate their My Script List.
In the coming month Fred is also set to launch WhatsApp access for patients who have a My Script List. This will increase flexibility in how they order and manage prescriptions from their local pharmacy. Fred is also working with several medication management apps (including MedAdvisor, Medmate and myPharmacyLink) to allow patients to be able to access and view their My Script List.
For further information:
Information and resources on electronic prescriptions for patients and healthcare providers are available on the Australian Digital Health Agency website.
Electronic prescriptions are now transacting across Australia, with the Northern Territory's successful dispense of its first paperless electronic prescription on 1 September.
eRx Script Exchange has now successfully enabled electronic prescriptions to be transacted in all Australian states and territories as part of the national network for electronic prescribing and dispensing.
Alice Springs Pharmacy dispensed the Northern Territory's first electronic prescription. Pharmacy Manager Anandh Vijayan said, "We are extremely proud to have dispensed the Northern Territory's first electronic prescription. This will make it easier for patients to access their medication. Alice Springs has a large number of tourists and visitors from other parts of the country who will now be able to access medications from their GP while they are visiting. It will also save our pharmacy considerable time that we would otherwise spend dealing with fax copies and having to chase up originals."
According to Rupert Lee, Acting Chief Operating Officer at the Australian Digital Health Agency,
"Given the remote locations of many patients, prescribers, pharmacies and communities throughout the Northern Territory, the Agency believes that electronic prescriptions will bring significant benefits to many people. With the final jurisdiction now live, we are pleased to see that electronic prescriptions are now being utilised in every state and territory across Australia. Congratulations to everyone involved in this important initiative."
Pharmacist and CEO of Fred IT Group, Paul Naismith, emphasised the foundational role of electronic prescriptions in a modern healthcare network, saying,
"This is a significant leap forward for healthcare in Australia. The achievement of national electronic prescriptions is vital to modern healthcare delivery based on flexibility for patients and state-of-the-art systems for healthcare professionals."

"Behind the scenes, this has occurred as a result of enormous industry collaboration across the states and territories. I am extremely proud of the leadership role that Fred and eRx Script Exchange have taken in making this happen, and of the terrific efforts of GPs, pharmacies, and medical and pharmacy software vendors working together to make this available across Australia."
This week's successful electronic prescription occurred using Best Practice medical software prescribing system, prescription exchange service eRx Script Exchange, and Fred Dispense with MedView Flow. It used the "token" model, which involves the doctor sending the electronic prescription "token" to the patient by SMS or email. The patient then forwards or presents the code to their chosen pharmacy for dispensing.
Pharmacies and GPs should contact their vendors about turning on the token model in their sites.
---
Active Script List
With the national network for "tokens" in place across Australia, preparations continue for the launch of the Active Script List this year. The token model and Active Script List will operate side-by-side to provide patients with flexibility in how they digitally access their medications.
The Active Script List will further improve the patient experience by-
Giving patients a way to manage their scripts in one location,
making it easier for them to share scripts with their doctors and pharmacists, and
Making it faster and more efficient to get scripts dispensed.
Leading Australian prescribing and dispensing vendors collaborate to complete electronic prescription.
Australia's first paperless electronic prescription in primary care was successfully prescribed and dispensed in Victoria yesterday, marking a significant first step in the national delivery of electronic prescriptions.
The first electronic prescribing and dispensing occurred between Anglesea Medical and Anglesea Pharmacy. It used the "token" model where the doctor sends the electronic prescription along with a code or "token" to the patient by SMS or email. The patient then forwards or presents the code to their chosen pharmacy for dispensing.
According to Dr David Corbet at Anglesea Medical who prescribed the first electronic prescription, "The process is as simple as writing the prescription in the usual manner and, with the consent of the patient, selecting that the prescription is generated as an electronic prescription."
Pharmacist Jason Bratuskins dispensed the first electronic prescription in his Anglesea pharmacy. He commented, "Our patients and staff have been profoundly influenced by the isolation requirements of COVID-19, and it has been terrific to be part of efforts to re-define how we support our patients with alternative options for fulfilling prescriptions. I was pleased to see that this could sit comfortably alongside our existing processes."
This week's successful electronic prescription occurred using the Best Practice prescribing system, prescription exchange service eRx Script Exchange, Fred NXT Dispense and MedView Flow.
Pharmacist and CEO of Fred IT Group, Paul Naismith said,
"The achievement of the first successful electronic prescription in primary care settings is a major step forward in Australia's provision of a digital network that provides patients with flexibility for how they access their medications. I am very proud of the Fred and eRx teams which, through ongoing innovation and hard work, have achieved this result ahead of schedule in a very challenging work environment."
CEO of Best Practice, Dr Frank Pyefinch, was thrilled to hear that the first electronic script had been successfully transferred using Best Practice Software, saying,
"Our team has pulled out all stops to deliver this important functionality as quickly as possible and we expect that it will confirm that electronic prescriptions are the way of the future. It is history in the making!"
The token model will work alongside the Active Script List (ASL) to provide patients with flexibility in how they digitally access their medications. This week's success covered the entire electronic process of the token model: prescribing electronically in Best Practice, providing the patient with a token with the required number of repeats via eRx, sending the dispensing request to the pharmacy, integrating it into the pharmacy's workflow, based on MedView Flow, and then dispensing in Fred NXT.
Fred CEO Paul Naismith emphasised that ongoing industry collaboration will be vital to the national delivery of electronic prescriptions. Naismith concluded, "The priority from here is to continue approving participating vendor systems and understand what is needed to prepare patients, prescribers and pharmacies for a national system of electronic prescriptions. The token model and ASL are both important components of a national approach which provides patients with the flexibility and security to manage their electronic prescriptions in collaboration with their local prescriber and pharmacist."
MedView Flow is a new workflow tool to help pharmacies manage the dispensing changes which will occur with the introduction of electronic prescribing in Australia in 2020.
Electronic prescribing means that patients will be able to present their prescription electronically using a mobile phone, email message, or other pharmacy app, in addition to the traditional paper script.
MedView Flow addresses this problem by bringing paper-based and electronic scripts into the one electronic workflow (or queue). It has been developed to ensure that all Australian pharmacies can embrace electronic prescribing whilst continuing to provide efficient and safe care, regardless of whether patients present their script electronically or via paper.
According to pharmacist and CEO of Fred IT Group, Paul Naismith,
"Fred has invested heavily in the development of MedView Flow to support Australian pharmacy's transition to a contemporary, digital healthcare environment. We want to ensure that all Australian pharmacies can be on the front foot with this change, both meeting the Australian government's expectation that pharmacies are ready and offering their patients the convenience digital scripts deliver.

"Fred strongly supports Australia's move to electronic prescribing, which brings real flexibility for pharmacy patients to decide how they want to present their scripts. In the current climate where health efforts are focused on slowing the spread of COVID-19, we expect that the flexibility of being able to present scripts electronically will be an important support to pharmacies and customers."
"Electronic prescribing extends safety measures such as the electronic transfer of prescriptions that help reduce potential medication errors and contribute to better sharing of real-time information between healthcare professionals. Ultimately it will also significantly reduce the paperwork that health professionals deal with."
Leading Australian pharmacy groups Priceline, Amcal, Guardian, Discount Drug Stores, Advantage and Ventura Health have committed to introducing MedView Flow so that their member pharmacies can provide patients with choice in their prescription management.
MedView Flow is a cloud-based workflow tool which can be used with any dispensing software. It will be made available FREE of charge (for up to 5 devices) so that all Australian pharmacies, including independent pharmacies, can be ready when their first patients present with a fully electronic script.
To find out more or to register, please visit medview.com.au/flow
It's a topic that has been on the radar for some time and the evolution of ePrescriptions is now upon us. It all started with the electronic transfer of prescriptions (ETP) and it is only a matter of time before the paper script becomes redundant… but there is a little while to go before that is a reality.   
The industry is embarking on significant digital advances with the introduction of real time prescription monitoring (RTPM) along with ePrescriptions. This will, if it hasn't already via RTPM, impact the way your pharmacy operates in the dispensary.  
Whilst we wait for ePrescriptions to be rolled out, there are things that you can do now, in your pharmacy, to get ready for the new era in eHealth. We have identified 3 areas to help get you started: 
Technology 
Ensuring your pharmacy is equipped with a good internet connection, up to date computers & equipment and the right security for your data is essential.   
Connectivity 
Connection to a PES is the first step in the ePrescription process. Without connection to a PES, you are unable to access the information held within the script prescribed by the GP. Along with a PES connection, integration with MyHR and the ability to access your relevant state's RTPM platform are as important as the PES.  
Team 
Getting your team up to speed on what ePrescriptions will mean for the pharmacy means you will have an easier time when the transition eventually happens. A good way to start is to ensure your team are scanning every script, and if the barcodes on the scripts aren't working, let's get them working! 
How to get eHealth ready? 
Visit our ePrescribing page for a guide on how start preparing your pharmacy today. 
Fred IT Group (owner of eRx Script Exchange) is pleased to announce that it has been appointed by the Department of Health to lead the new national system for real time prescription monitoring which is designed to reduce the devastating impact of prescription medicine overdoses.
According to a report released by the Australian Institute of Health and Welfare, in 2016 there were 1,808 deaths in Australia as a result of prescription medicine overdoses. The introduction of a national approach to real-time prescription monitoring will play a significant role in preventing prescription medication misuse and saving lives.
Fred's recent experience in the developing of the Victorian real-time prescription monitoring system, called SafeScript, will be invaluable in extending real-time prescription monitoring to health professionals in all states and territories.
According to Fred CEO and pharmacist Paul Naismith,
" I have seen first-hand the anguish that accidental prescription drug overdose can cause to families who have lost loved ones, and am honoured that Fred can take part in developing eHealth systems to reduce the devastating impact of prescription overdose and misuse throughout the community. "
"Fred is committed to making medication management safer and more effective for all Australians, and we applaud the Australian government for taking a national approach to this problem. "
Fred will design, build and deliver the software system for the National Data Exchange (NDE) component. This will include working closely with medical and pharmacy software vendors and jurisdictions to provide a consistent user experience for health professionals practicing in different environments and to reflect individual state and territory requirements in the national system.
Click here to view the Fred IT Group media release.
Fred IT Group (owner of eRx Script Exchange) has been appointed to develop a real-time prescription monitoring system called SafeScript by the Victorian Department of Human Services, to help prevent prescription medication misuse and to save lives.
Last year, 372 Victorians died as a result of the overdose of prescription medicines. SafeScript will help health professionals deal with this growing problem by providing them with an accurate and up to date picture of patient prescriptions. This clinical data will help pharmacists and GPs to identify and support patients who are at risk.
According to Paul Naismith, pharmacist and CEO of Fred IT Group,
" As pharmacists and health professionals, we see how many people in the community are negatively affected by the misuse of prescription medicine. As a company, we are extremely grateful to have the opportunity to work with the Victorian Government on reducing the devastating impact of medications misuse. "
" ... I am proud that with SafeScript we are able to build on that backbone in a way that will make a real difference to the community.  "
SafeScript will be rolled out in Victoria in 2018. It will utilise real-time prescription data captured via the electronic transfer of prescriptions through eRx Script Exchange and MediSecure to monitor Schedule 8 medications and other high-risk medications.
According to Telstra Health Managing Director Mary Foley,
" Telstra Health welcomes the opportunity to play a role in this significant Victorian Government initiative that has real potential to save lives. Through our partnership with Fred IT Group's eRx Script Exchange and in conjunction with MediSecure, we will provide a vital clinical alerting tool and capability to enable doctors and pharmacists to identify and support patients with potential dependency issues with prescription medications.  "
Click here to view the Fred IT Group media release.
Read the Victorian Government Media Release: Saving lives: getting SafeScript done in Victoria
---
---
One of the key problems facing Australian health care professionals continues to be the lack of consolidated medications information and an inability to easily share information between health professionals. When patients move between community care and hospital and aged care, the absence of good quality and up to date clinical data can contribute to these interactions becoming high risk, resulting in medication misadventures and unnecessary hospital readmissions.
Medications reconciliation remains a largely manual process throughout Australia, providing a glaring reminder of the implications around the lack of shared clinical data on patient welfare. Thankfully, technology advances are making significant inroads into this problem, with the development of new applications such as the MedView Medicines Workspace.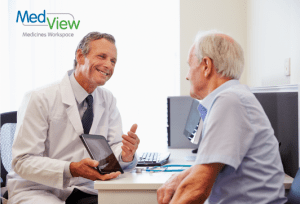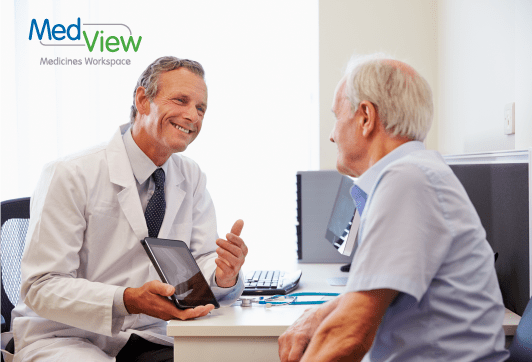 The MedView Medicines Workspace is an update on the original MedView pilot which took place in the Barwon Region of Victoria. The pilot tackled the problem around the lack of visibility of clinical data between different sectors, drawing together medication information from healthcare professionals in community, hospital and aged care settings. As a result and in an Australian first, health professionals who took part in the trial were able to see a combined list of patients' prescribed and dispensed medications from across all of these settings.
The pilot found that the sharing of clinical data, with patient consent, resulted in better medications management and safer outcomes for patients. MedView demonstrated the capacity of web applications to draw on data captured by existing systems, especially eRx Script Exchange, as a way of delivering extra value for health users and health professionals.
In community pharmacy and GP clinics, it is not uncommon to see patients who are confused about what medications they should be taking according to their discharge summary. The MedView Medicines Workspace will help alleviate this problem by allowing doctors, pharmacists, hospitals, aged care settings and patients to have shared access to critical medicines information and services.
With MedView Medicines Workspace, authorised health care providers will be able to view hospital data and pharmacy data at the same time, regardless of whether they are in My Health Record (MyHR) or MedView. They can then curate the data into a reconciled list, which can also be verified with additional input from the patient. Should the patient then present at a hospital or clinic, the clinician can view the reconciled list, complete with details on who curated the list and when, enabling a well-informed discussion with the patient about their medication.
The MedView pilot was focused solely on providing a consolidated list of all prescribed and dispensed medications of a patient for practitioners to see. This was a significant achievement in itself, however there was no capacity to interact directly with the data provided and improve the quality of the information held.
Four years on and taking it a step further, the new MedView Medicines Workspace will be a hub for authorised third parties to integrate with and deliver additional medications management services such as, medications reconciliation, medications monitoring and compliance monitoring - allowing clinicians to contribute data back to MyHR.
The original MedView provided a consolidated medications list of prescribe and dispense events. The new MedView will provide services on top which will help drive meaningful use of MyHR data.
With the launch of MedView Medications Workspace on the horizon, we will be in a stronger position to ensure that the right health care professionals are able to see the right information at the right time. Above and beyond this, doctors, pharmacists and other clinicians will also be able to contribute to shared records, both within the workspace and in MyHR. Not only can this help to ease the burden of misadventure and unnecessary hospital readmissions, but it also has real potential to drive the meaningful use of MyHR.
The key, as an industry, is to concentrate on bridging these information gaps to provide optimal care for patients. The ideal of one clear and perfect complete source of medications data is still a way off, however we must concentrate our efforts on how we can better work together as an industry to use data that is already being captured through systems such as electronic prescribing and dispensing. In this view, MedView Medicines Workspace and MyHR are not competing, but rather are complementary ways of building up clinical data at some of the high risk intersections between care settings.
It goes without saying that any such understanding needs to be based on the view that data is only shared with consent, and that it is dealt with sensitively and with a view to improving health outcomes rather than commercial outcomes.
The MedView Medicines Workspace is a prime example of how thinking creatively and applying innovation can deliver real life-saving potential and immediate practical value to the entire health sector.