Australia's first digital script list has been vital in helping the rural New South Wales community of Forbes continue to provide potentially life-saving medication to dozens of patients cut off by flood waters throughout November and December
.
Regional patients and patients with high medication needs have led take-up of the digital script list, called My Script List, which has today hit the milestone of one million scripts since its launch in April. In the eight months since launch, it has demonstrated its value in helping to avoid medication disruptions that would otherwise occur as a result of events such as floods, isolation due to COVID or travelling.
One of two pharmacies servicing the community and surrounding areas, Life Pharmacy is consistently one of the highest users of My Script List, nationally and in New South Wales. According to Jack Buckley, lead pharmacist, owner and manager, having a high number of patients registered with the digital script list was invaluable in allowing Life Pharmacy to get medications to patients who were isolated by floods.
"Many of our patients were cut off from town and isolated by the severe flooding in November. Without My Script List and electronic scripts, they would not have been able to access their medications. Instead, patients could use telehealth consults to obtain an electronic script, which we could immediately view and dispense via My Script List. We delivered patient medications to SES workers, who ferried medications to patients across flood waters."

"Being in a rural area, My Script List has really helped our patients and our pharmacy in finding new ways to prevent disruptions to medication supply. With My Script List, the patient and pharmacy both have immediate access to the electronic script, so there is no faxing, emailing or trying to find where it has gone.
This makes it really easy for patients and for us, whether dealing with periods such as Covid, the current floods, or when they are on holiday."
According to Paul Naismith, pharmacist and CEO of Fred IT, the digital list was vital in supporting the community to be able to avert otherwise potentially life-threatening disruptions in medication.
"My Script List is the final and vital link that connects patients and health professionals electronically and in real-time nationally. Prior to the introduction of the first active script list in April, such a rapid community response involving GPs, pharmacies and SES workers to get medication to patients isolated by flood
waters would not have been possible. The ability to view a real-time digital list of a patient's current scripts and repeats means that pharmacists and health professionals and community organisations are able to respond quickly and inventively in supporting communities with life-saving care."
In addition to providing greater flexibility and speed of response, Life Pharmacy has also seen significant improvements in dispensing efficiency.
According to Jack Buckley,
"The big impact for our pharmacy is that it streamlines dispensary workflow and increases workflow efficiency by as much as 30%. Once we saw its efficiency, our motto was to try to sign up every patient who came in with an electronic script."
This streamlining occurs as a result of the fact that My Script List consolidates all of a patient's active prescriptions in one list, regardless of whether the patient uses tokens, paper prescriptions, or a combination. Pharmacies can see and dispense directly from the digital list.
Regionally based pharmacies represent 65% of the top 20 users of My Script List and higher usage in both Victoria and New South Wales. Across Australia, My Script List users have an average of 9.2 scripts each, suggesting that My Script List is helpful for patients with more complex health issues requiring multiple
medications.
My Script List is a Department of Health conformant Active Script List (ASL) created by Australia's two prescription exchange services, eRx Script Exchange and MediSecure. It is available to all pharmacies across Australia with integrated dispensing software.
Pharmacists can assist patients to register for the free My Script List service, and request access to view and dispense from a patient's list.
For further information:
Information and resources on electronic prescriptions for patients and healthcare providers are available on the Australian Digital Health Agency website.
Electronic prescription use has surged across Australia from June, spurred on by pharmacies and patients seeking remote and contactless options for medication supply during lockdown.
The increased take-up has seen eRx Script Exchange achieve the milestone of 20 million electronic prescriptions since Australia launched national electronic prescriptions fifteen months ago. More than 28,000 doctors prescribed 10.5 million of those, while 98% of the nation's pharmacies produced 9.5 million repeats.
The rate of usage has increased as patients and health practitioners have been affected by recurring lockdowns, with the four months from June to September 2021 seeing:
7.5 million electronic prescriptions created
Scripts prescribed electronically doubling from 10% (1 in 10) to the current rate of 19.5% (1 in 5)
NSW and the ACT experiencing significant growth in lockdown (see graph below)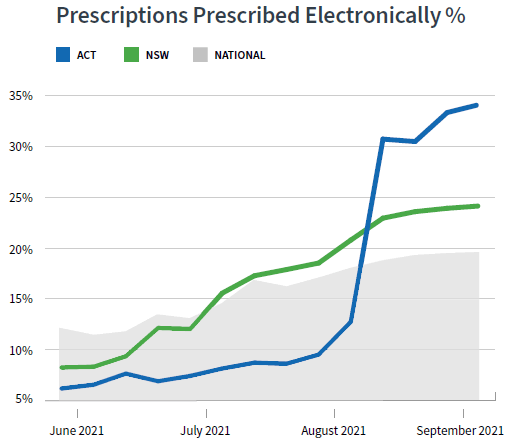 Electronic prescriptions have been vital in providing patients and health professionals with additional flexibility during COVID-19, including the ability for patients to obtain their medicines without attending a clinic or pharmacy (where delivery is available). Electronic prescriptions have enabled patients in isolation or quarantine to maintain uninterrupted medication supply.
Paul Naismith, pharmacist and CEO of Fred IT, says that electronic prescriptions have been central in enabling pharmacies and patients to adapt to the challenges of lockdown.
"Although we have seen widespread changes in pharmacy practice since the beginning of COVID-19, pharmacies have had to keep adapting to the Delta variant. Electronic prescriptions have played a key role in helping pharmacies manage practical issues around lockdown and social distancing, including reducing the potential time that patients are waiting in-store and reducing the number of people in-store at any one time."
According to Paul, lockdowns have seen patients also increasingly turning to pre-ordering of electronic prescriptions.
"Patients have become more digitally capable during COVID-19 and this is driving rapid change in how they connect with pharmacies. In the past week, 14,000 patients pre-ordered electronic scripts through the MedView Flow network, which means they ordered from home or elsewhere before coming in to collect their medicine. The vast majority of these thousands of pre-ordered prescriptions are click and collect, although delivery services are growing."
Whilst pre-ordering prescriptions has always been possible, the removal of the need for the paper script follow-up has substantially streamlined the process for patients and pharmacies. Where pharmacies are using MedView Flow, electronic script orders are also submitted directly into the pharmacy queue, which further increases efficiencies.
Patients now have access to a range of options for making pre-ordering scripts easier.
The new "How can I get this prescription dispensed?" button on eRx digital tokens (image below) offers an increasing selection of apps and services. The MedView Flow network of 2600 participating pharmacies are receiving prescription orders directly into the dispensary from the following patient driven services:
Fast token send with MedView Patient Connect
WhatsApp from their My Script List
Medication management apps, including MedAdvisor, myPharmacyLink and Medmate
For further information and resources for your pharmacy see ePrescriptions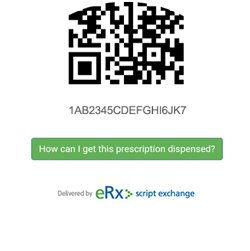 Fred IT Group will launch prescription ordering via popular messaging service WhatsApp at this year's APP Conference to be held between 20 and 23 May.
WhatsApp is one of Australia's most popular messenger apps, and home to the Australian Government's official Covid-19 channel. The launch of prescription ordering via WhatsApp means that it will be even easier for patients to view and manage their electronic prescriptions. Patients will also now have the flexibility to order their electronic prescriptions via WhatsApp, SMS or email.
Patients will also be able to use WhatsApp to quickly and easily access their My Script List to message their pharmacy to arrange for a prescription to be dispensed. My Script List is Australia's first active script list, launched in Tasmania in April 2021, and now available to all states and territories. It provides GPs, patients and pharmacies with visibility of all of a patient's current prescriptions and repeats in one digital list for the first time. The new script list complements the existing methods of the paper script and digital token – the digitised script sent by the doctor to a patient's email or phone – which was introduced in May 2020.
According to pharmacist and CEO of Fred IT Group, Paul Naismith,
"The addition of WhatsApp ordering makes it significantly easier for patients to manage their medications, and means that a significant number of patients now have the flexibility to choose between using SMS, email or WhatsApp to order their prescriptions. We know that more and more, consumers are favouring one app that they can use for many interactions. As the most widely used chat app in Australia, this means that the WhatsApp options for script ordering will be available to the most people possible"
In 2020, Fred won an Australian Digital Health Agency (ADHA) Innovation Challenge for its work on developing WhatsApp as a way to enable Australians to easily access their prescriptions electronically.
WhatsApp prescription ordering uses a WhatsApp chatbot and includes end-to-end encryption. Pharmacies using Fred dispensing software have access to WhatsApp prescription ordering. This is available via MedView Patient Connect, which is part of MedView Flow.
Prescription ordering with WhatsApp is being launched at the APP Conference on the Gold Coast (May 20-23). Please visit the MedView & eRx Script Exchange stands (127 and 128) to see it for yourself.

Fred IT Group launched a new digital script list, called My Script List, last week to provide pharmacies with a complete list of all of a patient's current prescriptions and repeats for the first time.
My Script List was launched in Tasmania on Thursday 22 April. It will be rolled out to the remaining states and territories by the end of May. The new digital list will make it significantly easier for pharmacists to help patients identify the correct electronic prescription, removing concerns about patients losing prescriptions, or having to locate the right prescription or digital token.
According to Joseph O'Malley, Pharmacist and owner of Westside Pharmacy in Ulverstone, Tasmania, and Director of Pharmaceutical Defence Limited:
"My Script List has provided us with better visibility of our patients' current prescriptions. This helps us to reduce the pressure that patients experience, as they no longer need to worry about remembering their scripts or sorting through tokens on their phone. Instead, they simply come in and talk to us and let us manage their prescriptions. My Script List has also removed the need to keep scripts on file, so is much easier to manage than printing and filling paper prescriptions."
Electronic prescriptions were launched in Australia in May 2020 with a digital token method (the electronic prescription sent by the doctor to a patient's email or phone) alongside the existing paper prescription. In the six months since launch:
More than 6.5 million electronic prescriptions have been created and 4.2 million dispensed
17,227 doctors have created an electronic prescription
5,469 Pharmacies have dispensed an electronic prescription
My Script List is a Department of Health conformant Active Script List (ASL). It works alongside the token method and the original paper prescription. Whilst the token method generates a separate token for each prescription and repeat, My Script List combines the patient's electronic prescriptions in one digital list.
According to pharmacist and CEO of the Fred IT Group, Paul Naismith:
"My Script List will substantially reduce the administrative burden associated with managing and dispensing prescriptions. This is extremely important for pharmacies that are supporting patients with multiple prescriptions and chronic health conditions. It means that pharmacists can therefore spend time where they need to – supporting the health care needs of their patients."
My Script List was created in partnership between Australia's two prescription exchange services - eRx Script Exchange and MediSecure - and will be available to all pharmacies across Australia as other dispensing vendors integrate to the MySL. Patients can contact their pharmacist or GP to activate their My Script List.
In the coming month Fred is also set to launch WhatsApp access for patients who have a My Script List. This will increase flexibility in how they order and manage prescriptions from their local pharmacy. Fred is also working with several medication management apps (including MedAdvisor, Medmate and myPharmacyLink) to allow patients to be able to access and view their My Script List.
For further information:
Information and resources on electronic prescriptions for patients and healthcare providers are available on the Australian Digital Health Agency website.