Electronic prescription use has surged across Australia from June, spurred on by pharmacies and patients seeking remote and contactless options for medication supply during lockdown.
The increased take-up has seen eRx Script Exchange achieve the milestone of 20 million electronic prescriptions since Australia launched national electronic prescriptions fifteen months ago. More than 28,000 doctors prescribed 10.5 million of those, while 98% of the nation's pharmacies produced 9.5 million repeats.
The rate of usage has increased as patients and health practitioners have been affected by recurring lockdowns, with the four months from June to September 2021 seeing:
7.5 million electronic prescriptions created
Scripts prescribed electronically doubling from 10% (1 in 10) to the current rate of 19.5% (1 in 5)
NSW and the ACT experiencing significant growth in lockdown (see graph below)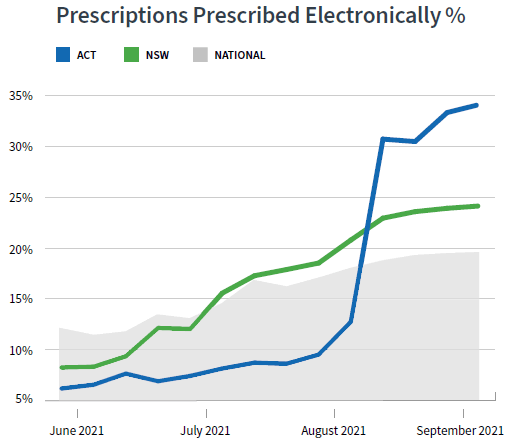 Electronic prescriptions have been vital in providing patients and health professionals with additional flexibility during COVID-19, including the ability for patients to obtain their medicines without attending a clinic or pharmacy (where delivery is available). Electronic prescriptions have enabled patients in isolation or quarantine to maintain uninterrupted medication supply.
Paul Naismith, pharmacist and CEO of Fred IT, says that electronic prescriptions have been central in enabling pharmacies and patients to adapt to the challenges of lockdown.
"Although we have seen widespread changes in pharmacy practice since the beginning of COVID-19, pharmacies have had to keep adapting to the Delta variant. Electronic prescriptions have played a key role in helping pharmacies manage practical issues around lockdown and social distancing, including reducing the potential time that patients are waiting in-store and reducing the number of people in-store at any one time."
According to Paul, lockdowns have seen patients also increasingly turning to pre-ordering of electronic prescriptions.
"Patients have become more digitally capable during COVID-19 and this is driving rapid change in how they connect with pharmacies. In the past week, 14,000 patients pre-ordered electronic scripts through the MedView Flow network, which means they ordered from home or elsewhere before coming in to collect their medicine. The vast majority of these thousands of pre-ordered prescriptions are click and collect, although delivery services are growing."
Whilst pre-ordering prescriptions has always been possible, the removal of the need for the paper script follow-up has substantially streamlined the process for patients and pharmacies. Where pharmacies are using MedView Flow, electronic script orders are also submitted directly into the pharmacy queue, which further increases efficiencies.
Patients now have access to a range of options for making pre-ordering scripts easier.
The new "How can I get this prescription dispensed?" button on eRx digital tokens (image below) offers an increasing selection of apps and services. The MedView Flow network of 2600 participating pharmacies are receiving prescription orders directly into the dispensary from the following patient driven services:
Fast token send with MedView Patient Connect
WhatsApp from their My Script List
Medication management apps, including MedAdvisor, myPharmacyLink and Medmate
For further information and resources for your pharmacy see ePrescriptions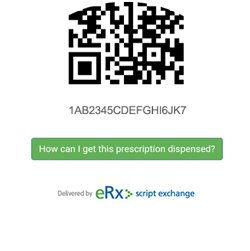 Electronic prescriptions are now transacting across Australia, with the Northern Territory's successful dispense of its first paperless electronic prescription on 1 September.
eRx Script Exchange has now successfully enabled electronic prescriptions to be transacted in all Australian states and territories as part of the national network for electronic prescribing and dispensing.
Alice Springs Pharmacy dispensed the Northern Territory's first electronic prescription. Pharmacy Manager Anandh Vijayan said, "We are extremely proud to have dispensed the Northern Territory's first electronic prescription. This will make it easier for patients to access their medication. Alice Springs has a large number of tourists and visitors from other parts of the country who will now be able to access medications from their GP while they are visiting. It will also save our pharmacy considerable time that we would otherwise spend dealing with fax copies and having to chase up originals."
According to Rupert Lee, Acting Chief Operating Officer at the Australian Digital Health Agency,
"Given the remote locations of many patients, prescribers, pharmacies and communities throughout the Northern Territory, the Agency believes that electronic prescriptions will bring significant benefits to many people. With the final jurisdiction now live, we are pleased to see that electronic prescriptions are now being utilised in every state and territory across Australia. Congratulations to everyone involved in this important initiative."
Pharmacist and CEO of Fred IT Group, Paul Naismith, emphasised the foundational role of electronic prescriptions in a modern healthcare network, saying,
"This is a significant leap forward for healthcare in Australia. The achievement of national electronic prescriptions is vital to modern healthcare delivery based on flexibility for patients and state-of-the-art systems for healthcare professionals."

"Behind the scenes, this has occurred as a result of enormous industry collaboration across the states and territories. I am extremely proud of the leadership role that Fred and eRx Script Exchange have taken in making this happen, and of the terrific efforts of GPs, pharmacies, and medical and pharmacy software vendors working together to make this available across Australia."
This week's successful electronic prescription occurred using Best Practice medical software prescribing system, prescription exchange service eRx Script Exchange, and Fred Dispense with MedView Flow. It used the "token" model, which involves the doctor sending the electronic prescription "token" to the patient by SMS or email. The patient then forwards or presents the code to their chosen pharmacy for dispensing.
Pharmacies and GPs should contact their vendors about turning on the token model in their sites.
---
Active Script List
With the national network for "tokens" in place across Australia, preparations continue for the launch of the Active Script List this year. The token model and Active Script List will operate side-by-side to provide patients with flexibility in how they digitally access their medications.
The Active Script List will further improve the patient experience by-
Giving patients a way to manage their scripts in one location,
making it easier for them to share scripts with their doctors and pharmacists, and
Making it faster and more efficient to get scripts dispensed.
Leading Australian prescribing and dispensing vendors collaborate to complete electronic prescription.
Australia's first paperless electronic prescription in primary care was successfully prescribed and dispensed in Victoria yesterday, marking a significant first step in the national delivery of electronic prescriptions.
The first electronic prescribing and dispensing occurred between Anglesea Medical and Anglesea Pharmacy. It used the "token" model where the doctor sends the electronic prescription along with a code or "token" to the patient by SMS or email. The patient then forwards or presents the code to their chosen pharmacy for dispensing.
According to Dr David Corbet at Anglesea Medical who prescribed the first electronic prescription, "The process is as simple as writing the prescription in the usual manner and, with the consent of the patient, selecting that the prescription is generated as an electronic prescription."
Pharmacist Jason Bratuskins dispensed the first electronic prescription in his Anglesea pharmacy. He commented, "Our patients and staff have been profoundly influenced by the isolation requirements of COVID-19, and it has been terrific to be part of efforts to re-define how we support our patients with alternative options for fulfilling prescriptions. I was pleased to see that this could sit comfortably alongside our existing processes."
This week's successful electronic prescription occurred using the Best Practice prescribing system, prescription exchange service eRx Script Exchange, Fred NXT Dispense and MedView Flow.
Pharmacist and CEO of Fred IT Group, Paul Naismith said,
"The achievement of the first successful electronic prescription in primary care settings is a major step forward in Australia's provision of a digital network that provides patients with flexibility for how they access their medications. I am very proud of the Fred and eRx teams which, through ongoing innovation and hard work, have achieved this result ahead of schedule in a very challenging work environment."
CEO of Best Practice, Dr Frank Pyefinch, was thrilled to hear that the first electronic script had been successfully transferred using Best Practice Software, saying,
"Our team has pulled out all stops to deliver this important functionality as quickly as possible and we expect that it will confirm that electronic prescriptions are the way of the future. It is history in the making!"
The token model will work alongside the Active Script List (ASL) to provide patients with flexibility in how they digitally access their medications. This week's success covered the entire electronic process of the token model: prescribing electronically in Best Practice, providing the patient with a token with the required number of repeats via eRx, sending the dispensing request to the pharmacy, integrating it into the pharmacy's workflow, based on MedView Flow, and then dispensing in Fred NXT.
Fred CEO Paul Naismith emphasised that ongoing industry collaboration will be vital to the national delivery of electronic prescriptions. Naismith concluded, "The priority from here is to continue approving participating vendor systems and understand what is needed to prepare patients, prescribers and pharmacies for a national system of electronic prescriptions. The token model and ASL are both important components of a national approach which provides patients with the flexibility and security to manage their electronic prescriptions in collaboration with their local prescriber and pharmacist."